Wellness care is very important for your pet's life stages. Puppies and kittens require more vaccines than older pets so they have a foundation of protection. For senior pets we recommend annual bloodwork to help identify potential health problems before they develop. We also provide a full range of internal medicine including cardiology, ophthalmology, neurology, dermatology, gastroenterology, orthopedic surgery, oncology, endocrinology and more. We also offer nutritional counseling should your pet have specific dietary needs. There may also be times when your pet needs more specialized attention. We work closely with area specialists to make the transition to specialized care seamless.
Below is a list of the variety of services we offer.
Bathing/Grooming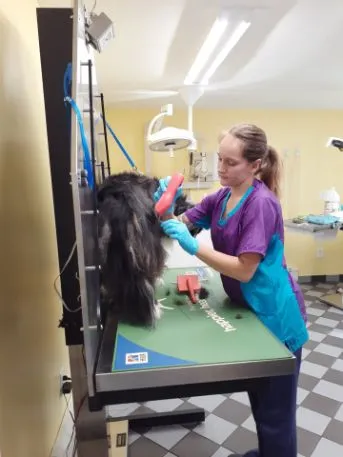 We have a dog groomer on site. Dog grooming is done on Fridays. We also offer bathing, comb out and lion cuts for cats. This is generally done under anesthesia if the cat is nervous or stressed. (pre-anesthetic blood work is recommended, just as in surgical situations) We also provide medicated baths for dogs and cats, as well as ear cleaning, nail clipping, and anal gland expression, as needed. Dogs must be up to date on rabies, bordatella and distemper, and cats must be up to date on rabies and distemper before they are groomed. To schedule a grooming please call 860-633-3588 or email us at [email protected].
Behavior
We understand that pets occasionally exhibit unwanted behaviors due to stress, being young and untrained, when a new baby or pet enters the home or as the result of a health condition. When you bring your pet to us for behavioral advice, we will first run a diagnostic test. This test will check for any health problems underlying the change in behavior. Once that is ruled out we offer a number of behavioral modification tips.
Dental
Dental care is one of the most important aspects of your pets health. We provide complete dental care services including oral inspections, anesthetized ultrasonic cleanings, digital dental x-rays and more. We also recommend at-home dental maintenance in between professional cleanings.
Fully-Stocked Pharmacy
For your convenience, we have a fully-stocked, competitively priced in-house pharmacy. This enables you to pickup your pet's medication at the time it's prescribed allowing you to begin treatment immediately.
Hospice/Euthanasia
Saying goodbye to your best friend is painful and difficult but our team is committed to providing a lifetime of care during every phase of your pets life.
Laser Therapy
Laser therapy is an advanced pain management option that we are proud to offer. Laser therapy provides a non-invasive alternative to healing and pain control using concentrated light to stimulate healing cells in the body.
Microchipping
We recommend microchipping for all pets as it is the most effective means of identification. When you and your pet are separated their microchip contains information linking them to you. We use the HomeAgain microchip and we will register the chip for you.
Pain Management
Some pets experience pain due to old-age related conditions such as arthritis, or the pain felt following surgery. It is our belief that your pets should not feel pain as a result of health conditions. We encourage you to schedule a physical exam if you notice your pet moving slower, having trouble climbing stairs or vocalizing more than usual as these are possible signs of pain. We can then evaluate their level of pain and recommend a pain management program to fit their needs.
Radiology
We utilize digital radiology, enabling us to take accurate and efficient internal images of your pet. This also allows us to provide digital copies for specialists when a second opinion is needed.
Surgical Services
At our hospital we provide extensive surgical services including spay and neuter, as well as growth or foreign body removals.
Ultrasound
Dr. Sprague is trained to perform ultrasound imaging and it is available for your pet at our facility.